COMPARTIR ES DE ESTRELLAS
This is NOT only Borja Susilla story....
No, this is not just the story of a self-taught young man from Alcarreño fascinated by his grandmother Tula's kitchen since he was young.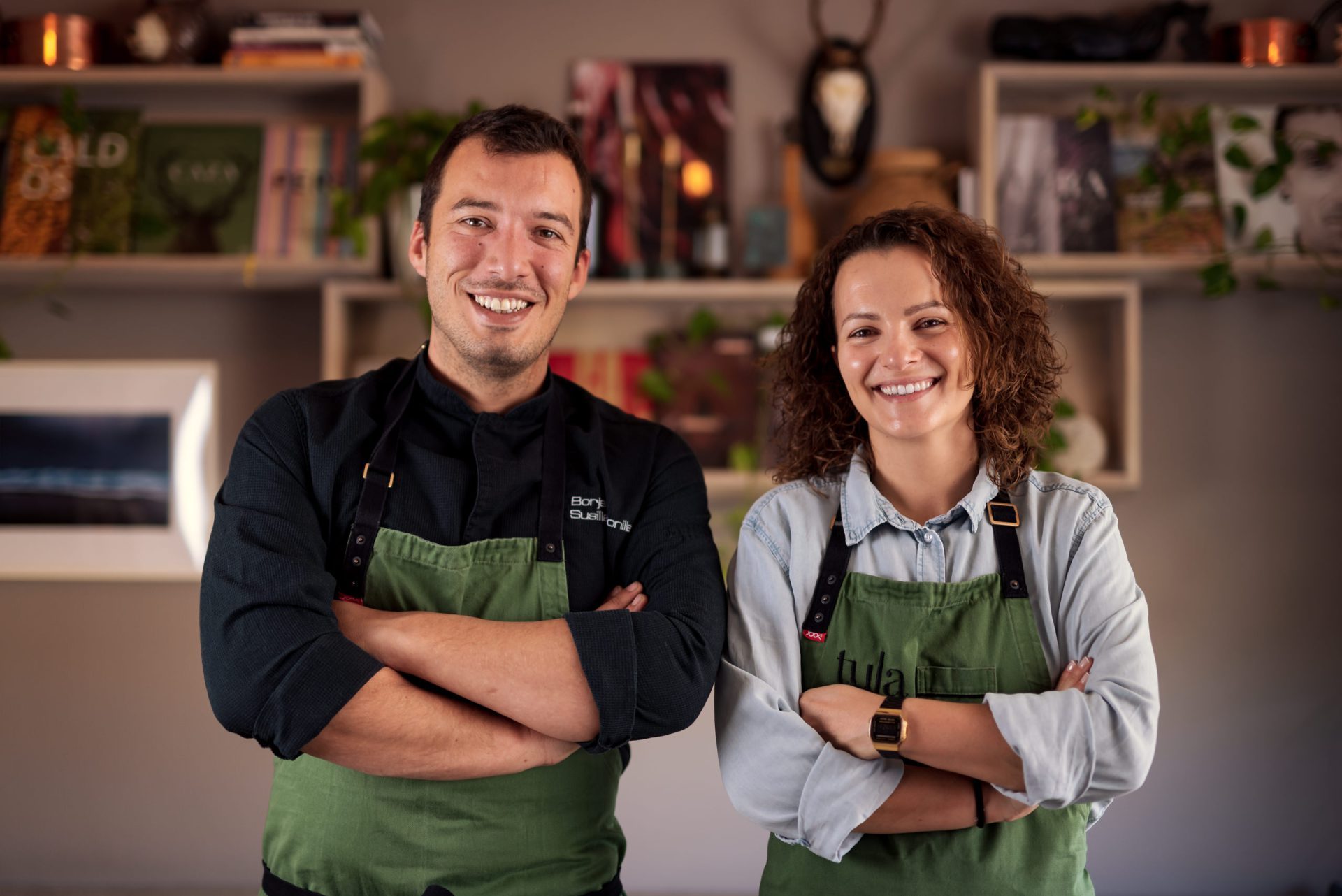 A young man who always knew that what he wanted most was to spend his life behind a stove, creating unforgettable gastronomic experiences for his clients.
Honest experiences.
Unpretentious experiences.
Experiences that make people feel at home.
This is not just the story of a kitchen explorer learning from great masters such as Quique Dacosta in Dénia and Pedro and Marcos Morán in Gijón.
A chef awarded a Michelin star in his 30s for creating a gastronomic treasure in a magical corner of the Mediterranean. For having created TULA.
A restaurant which is said to belong to the new generation of "stars with no tasting menu or white tablecloths". His life project with his partner Clara. No, this is not just Borja's story.
This is NOT only Clara story...
No, although Clara's is the smile that greets you when you first visit Tula, this is not just her story.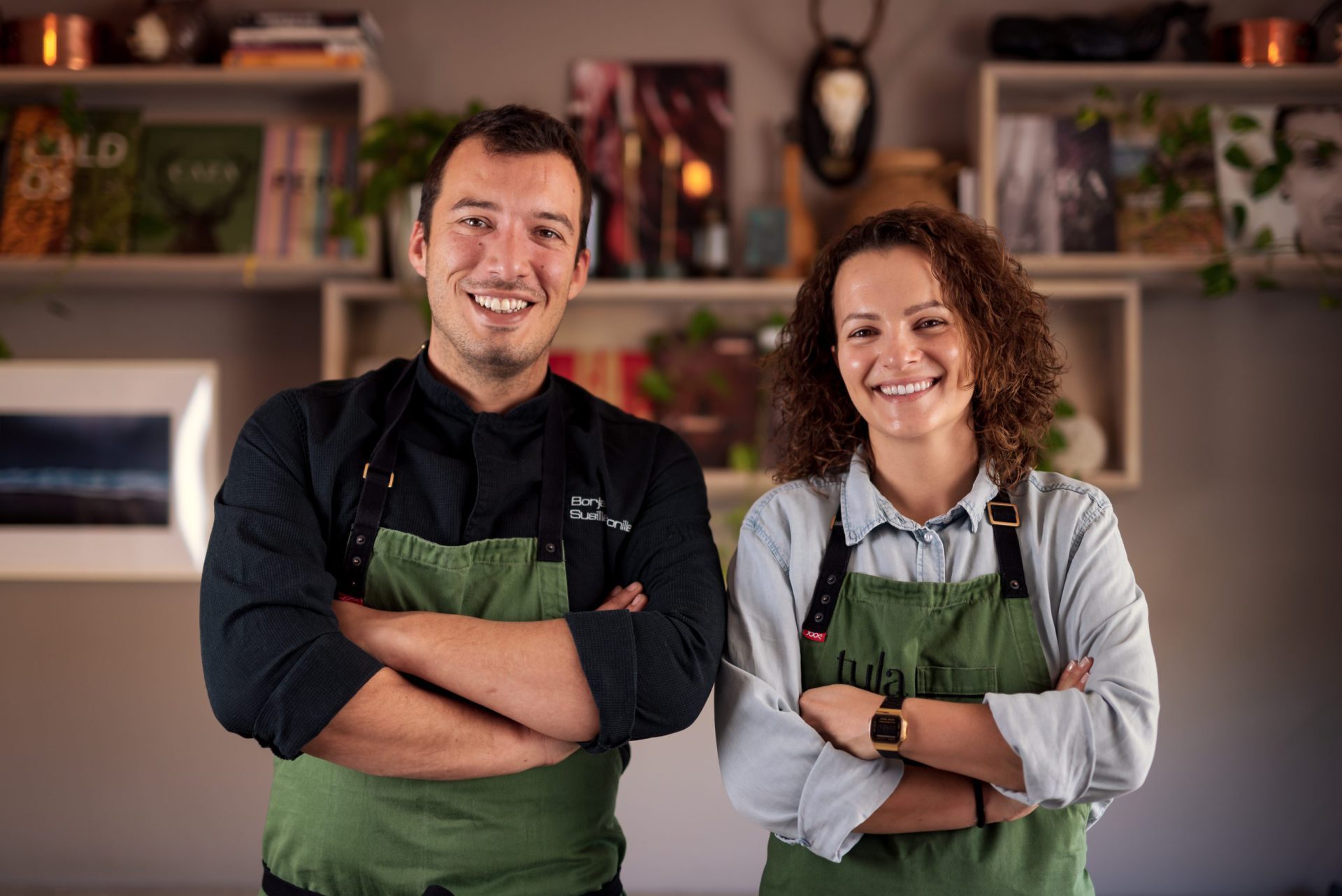 This is not just the story of a young chef by training and vocation who decided to cross the Atlantic as soon as she finished her studies at Le Cordon Bleu in Madrid.
A young woman passionate about gastronomy who shared the art of creating magic on the stove for more than half a year with her students at the EHT in La Paz in Bolivia.
A girl with the same dreams and aspirations as so many other girls of her age and who would be driven by fate to work in Quique Dacosta's three-star restaurant in Dénia…
And there – in the heart of the avant-garde Mediterranean cuisine – she would meet Borja, her partner in life and her partner in gastronomic adventures.
This is not just the story of Clara Puig de la Bellacasa, sommelier and front-of-house manager at Tula.
Nor is it just the story of destiny being playful...
And guiding this couple of chefs in their twenties towards a picturesque Mediterranean town despite being on the verge of signing the lease of what was going to be their first owned restaurant in Madrid!
"You have to see this place on Arenal beach," said a friend in Jávea, the little coastal town where Clara's mother lived.
This is not just the story of how they discovered a place that would require an infinitely smaller investment than in Madrid.
Here in Jávea. Where time seems to have stopped. Where people know each other's names and greet each other on the street with true affection. Whether they are local or tourists.
A place they knew how to make the most thanks to their previous experience working in the gastronomic temple of Quique Dacosta in nearby Dénia.
And no, this is not just the story of how that night in the car driving back to Madrid from Jávea, Borja and Clara created the menu for their new gastronomic project with all the enthusiasm in the world, and took the first step of what was going to be a fascinating gastronomic adventure!
"It's like a Tetris, grandma. If the door of the dishwasher is open it's impossible to turn around, if someone is using the fryer you can't open the oven, if someone else is on the stove you cannot open the drawers below… But, it's the perfect space for our new adventure and I know that we'll reach our goals with order, discipline, creativity and desire, just as you always taught me. I think you would be very proud, Grandma"
  and 
This is ALSO the story of the Garreta Family
A family of local fishermen who have been out to sea for generations – rain, hail or shine – to provide Jávea and other nearby towns with all kinds of fresh fish.
A family dedicated to their trade who call Borja every night as soon as they dock to personally discuss Tula's menu for the next day.
A family of local fishermen who go one step further and slaughter the fish following the Japanese Ike Jime bleeding technique, giving the meat a unique smoothness and flavour…
Yes, Tula's story is also the history of the Garreta family.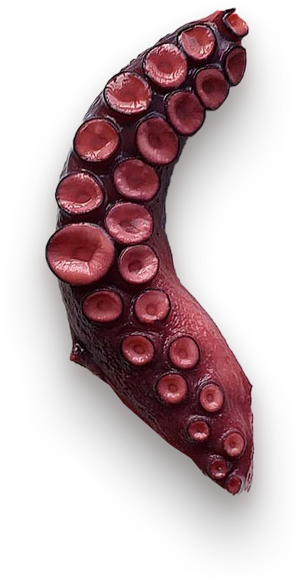 This is ALSO the story of dozens of local and national suppliers...
Who make it possible for Tula to offer the best seasonal products to its customers every single day.
Thanks to their dedication and passion for their craft and for our land, they are always ready to please the culinary creativity of the two young chefs.
Suppliers such as Maiques, a banker by profession, who since his retirement has been cultivating the seeds left by his father with no other intention than enjoying the process and the connections he establishes along the way as a "home farmer".
Or the great maestro Higinio Gómez Ortiz, "the poultry master to the Michelin stars", a professional who has dedicated his life to the constant search of fresh and seasonal game products, and awarded the Madrid Academy of Gastronomy Award for the «Best Market Stall» .
Farmers, hunters, fishermen, breeders, artisans crafting products to the highest standards of quality… Every single one of them go out of their way every day so Tula can surprise its clients with its gastronomic creations.
They are also the protagonists of this story.
And the story of all those clients who celebrate Tula's food and success...
Charming locals who have adopted Borja and Clara as if they were family, celebrating their great and small gastronomic feats as if they were their own…
Loyal customers who have frequented Tula since its very first day, becoming good friends over time.
Clients fascinated by the youth and professionalism of the team at Tula, and those who value the gastronomic feats that come out of its teensy kitchen.
National and international lovers of gastronomy, sailing, hunting, fishing and the good life… who knock on the kitchen door to congratulate Borja and Clara personally for the gastronomic experience they have just enjoyed.
Businessmen and women, foodies, lawyers, doctors, expats, tourists, couples, friends all coming together in a warm and unpretentious Mediterranean space where they can eat well and relax.
This is also their story.
No, this is NOT only Tula's story
THIS IS THE STORY OF JÁVEA
One of those little towns on the Mediterranean coast where time seems to have stopped forever.
A magical fishing village that still maintains the spell of its intricate cobbled streets meandering between white houses, squares and alleys of incomparable beauty.
A privileged town located in one of the best microclimates in the world and protected by imposing mountains that abruptly invade the sea.
A town open to tourism and respectful of the thousands of visitors who come every year to admire and enjoy its picturesque Mediterranean landscapes, its beautiful beaches and unspoilt coves embraced by steep cliffs.
But a fierce defender of its traditions. A fierce defender of its people – whether born or adopted. This is a story of planting Roots in Jávea. A story of Friendship and Family. Because JÁVEA is Community. JÁVEA is Belonging. JÁVEA is Home.
And yet, TULA is not only the name of our restaurant...
TULA IS THE NAME OF MY DEAREST GRANDMOTHER...
An endearing woman! A woman who was already a cook at the age of 8 and who was capable of feeding 50 people a day in her hometown of Azuqueca de Henares!
The person with whom Borja spent most of his childhood and from whom he learned to cook honest cuisine with products from the land and the sea. Honest cooking. Sincere. Unpretentious. Cooking that tastes like home. Cooking that gave him a clear gastronomic direction in all his subsequent projects.
Especially in this one: in Tula. Yes, this is the story of all those who make it possible for Tula to continue to be recognised as a small gastronomic gem in the middle of the Mediterranean.
So, everyone, thank you for being part of this story!